Hopefully this will be the first installment in a weekly segment I'll call Raenius Recommends. I will highlight a piece of hardware, software or service that successfully stands out and goes above and beyond. It seems every week we're bombarded with tons of Shovelware and useless accessories. I will hopefully be able to sort through the wreckage and find the stuff worth spending those hard earned dollars on. It's a dirty job, but someone's gotta do it! These will be kind of "mini-reviews", I will be going over why it's a must have, what I like about it and what I don't like about it (nothing's perfect). I'll also try to keep things recent. I'm not going to talk about something that came out 15 years ago! So, without further ado…
This week's recommendation:
Nyko Perfect Shot for Nintendo Wii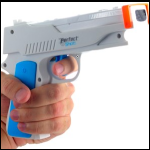 Ever since we knew how the Wii controller worked and saw the prototype "light gun" at E3 we were thinking two words: Duck Hunt. Instead, we got a "spin-off" shooter version of The Legend of Zelda: Twilight Princess packaged with a deformed Tommy Gun inspired plastic shell. It serves its purpose, but it's awkward and clunky and the trigger has bad response time. Then along comes Nyko who says: We can do it better.
And they did. How? The answer is quite simple. They made it look like a gun! I'm not sure what Nintendo was thinking. Probably on their never-ending crusade to shelter children from violence, they forget that's what kids want. While playing titles like House of the Dead 2 & 3 Return, Ghost Squad and the sleeper hit Resident Evil: Umbrella Chronicles holding something that looks like a gun and feels like a gun really puts you in the game.
Installation is so much easier than the Wii Zapper. It's literally plug and play. No snapping locks, sliding panels or wrapping cables. The only downside is I had to remove the battery compartment covers that came with my Nyko Wii Charge Station. Kind of silly not to make it compatible with your own product, but if that's the worst thing I can find wrong than that's not too bad. I have three Wii Remotes, so I can leave one permanently in the Perfect Shot. Conveniently, there's also a port on the bottom of the grip for the nunchuck attachment if you need it. All the games compatible with the Zapper will work with the Perfect Shot.
Gameplay is flawless. The trigger responds perfectly and the other face buttons aren't covered up just incase you need them for a menu or something. It's made very well and yet it isn't heavy enough to make your arm tired. After a few minutes, you really get into it. Most shooter games even have a calibration so you can have the "where-you-point-is-where-you-shoot" or the "Duck Hunt Effect".
If you can't find any of these gems on the sales floor there's a good reason. For a rock bottom price of around $15, it's obvious why it's sold out everywhere. It's even sold out on Nyko's
official site
. If you can hold out, online stores like
Amazon
are claiming to be back in stock later this month. I found mine on
eBay
for a pretty decent price. I'm not usually one to pay more than something than I have to, but this is a must-have accessory for your Nintendo Wii that you will enjoy for years to come. So, whether you're blasting zombies, crawling through trenches or saving hostages, make sure the Nyko Perfect Shot is your weapon of choice.
Time to break it down!
Performance
: Easy installation. Not too heavy and not too light. Accurate response time for trigger. Hours of enjoyment!
Build Quality
: So well made the only reason you'll buy another one is for Player 2
Value
: Retail price is a steal but buying on eBay could be risky. Look out for fakes!
Overall
: Better than the Nintendo Wii Zapper. Buy one if you can find it. You won't be dissapointed!
-mwb-